These luxury Sweatpants are crafted from Sea Island cotton, the world's softest and rarest cotton. Cleaner topstitching and a straight hem in place of the regular rib give a smarter look, while remaining lightweight and comfortable. Refined side pockets and a hidden rear pocket zip add functionality to this minimal style which perfectly complements the matching Sea Island sweatshirt.
Product Code: MTRS1556-BUAA
100% Sea Island Cotton
Sourced from the West Indies and Spun in Switzerland
Gentle wash at 30°C
Do not tumble dry
Dry cleanable
Made in Portugal
Fits true to size - take your normal size
Mid Rise, Easy straight Leg
Model is 6'1" and wears a size Medium
Delivery within 1-5 working days.
€5 or free for orders over €150.
All orders and returns are processed via our EU warehouse.
For full delivery and returns information, click here.
For deliveries outside of Europe, please visit our UK, US, or Rest of World sites.
Men's Bottoms - Body Measurements
This chart displays sizes based on body measurements. Use our measuring tips and refer to the sketch below to determine your size.
Size

XXS/28"

XS/30"

S/32"

M/34"

L/36"

XL/38"

XXL/40"

Waist

68.5-73.5cm

27-29"

73.5-78.5cm

29-31"

78.5-83.5cm

31-33"

83.5-88.5cm

33-35"

88.5-93.5cm

35-37"

93.5-98.5cm

37-39"

98.5-103.5cm

39-41"

Hips

86.5-91.5cm

34-36"

91.5-96.5cm

36-38"

96.5-101.5cm

38-40"

101.5-106.5cm

40-42"

106.5-111.5cm

42-44"

111.5-116.5cm

44-46"

116.5-121.5cm

46-48"
How to measure:
1. Waist - Pass the tape measure around your natural waistline, at the narrowest point of your waist. The tape measure should sit snugly against your body, but should not be pulled too tight.
2. Hips - Pass the tape measure across your hipbone, around the fullest point of your hips.
Men's Bottoms - Product Measurements
Men's Loopback Sweatpants

Size

XS/30"

S/32"

M/34"

L/36"

XL/38"

XXL/40"

1/2 Waist

32cm

12.8"

35cm

14"

38cm

15.2"

41cm

16.4"

44cm

17.6"

47cm

18.8"

1/2 Seat/Hip

48.5cm

19.4"

51cm

20.4"

53.5cm

21.4"

56cm

22.4"

58.5cm

23.4"

61cm

24.4

Inside Leg

73cm

29.2"

74cm

29.6"

75cm

30"

76cm

30.4"

77cm

30.8"

78cm

31.2

1/2 Leg Opening

12.5cm

5"

13cm

5.2"

13.5cm

5.4"

14cm

5.6"

14.5cm

5.8"

15cm

6"
How to measure:
1. For waist width, measure from waist point to waist point.
2. For hip width, measure from hip point to hip point.
3. For inside leg length, measure from the length from the fork (where the legs meet at the crotch) to the trouser hem, measured along the inside seam.
4. For leg opening, lay the trouser leg flat and measure the hem. Flatten pleated or creased trousers along their natural crease.
Need more help?
If you are unsure of the size required, please contact our Customer Services team.
Email: customerservice@sunspel.com
Tel: 0115 973 7860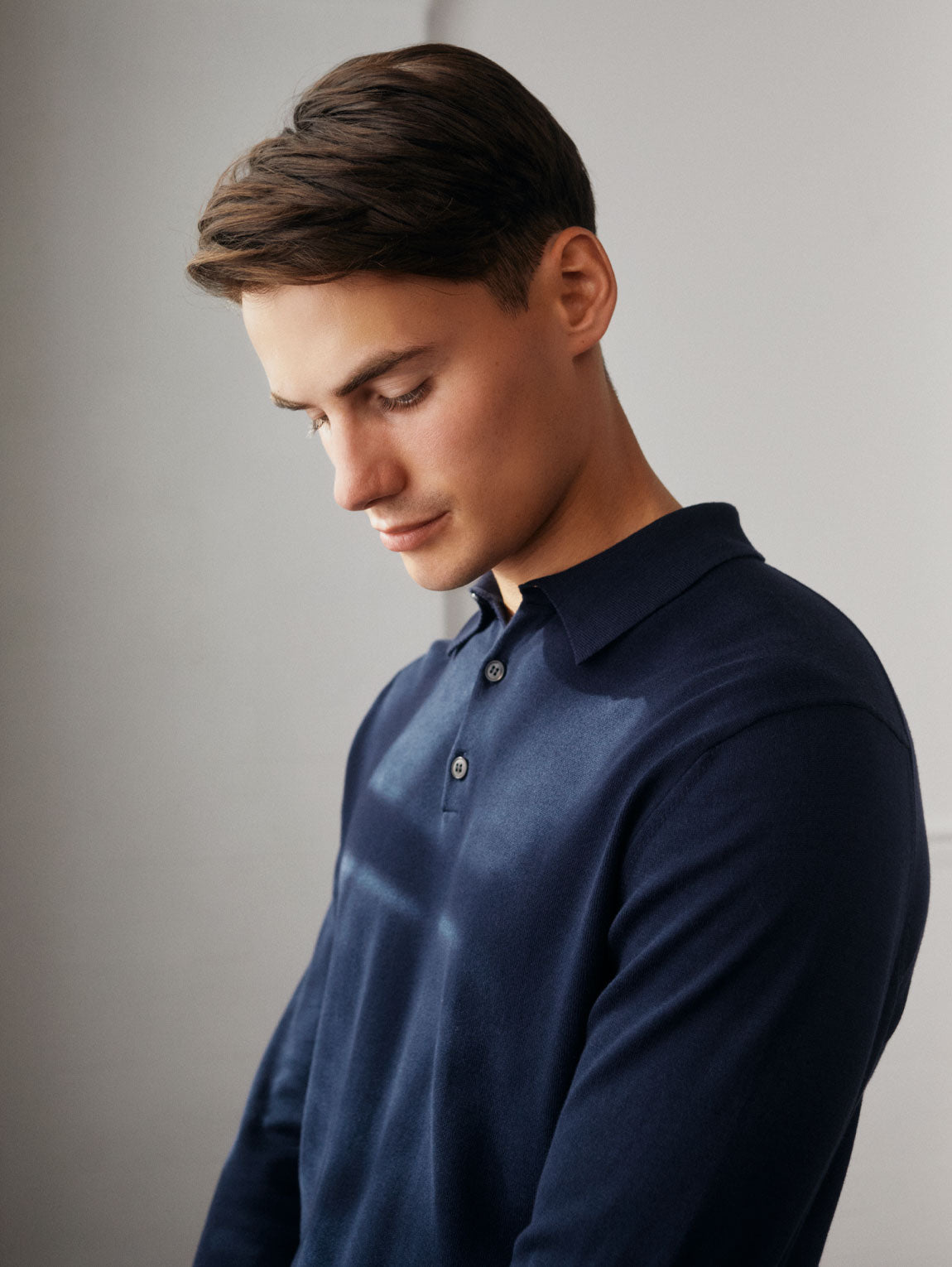 Sunspel's most luxurious garments are crafted from Sea Island cotton, the finest cotton in the world. It's also the rarest and accounts for just 0.0004% of all the world's cotton. Sea Island cotton has a longer staple (or fibre) and a finer texture than any other, making it unusually difficult to grow and spin. There is, however, no other cotton that has quite the same extraordinarily soft feel against the skin.

Our long history of working with this remarkable cotton dates back to the 19th century. Today we source our Sea Island cotton from a few small-scale farmers in the Caribbean, and work with specialist technicians in Switzerland to spin and knit our unique fabrics. Sunspel's Sea Island cotton remains the last word in luxury for underwear, T-shirts, shirts, polo shirts and knitwear.