Todd and Duncan: Quality and Responsibility
We source all our cashmere from Todd and Duncan, one of Scotland's oldest spinners. With over 150 years of experience, they use the finest, ethically farmed fibres to craft beautifully soft, durable yarns on the banks of Loch Leven.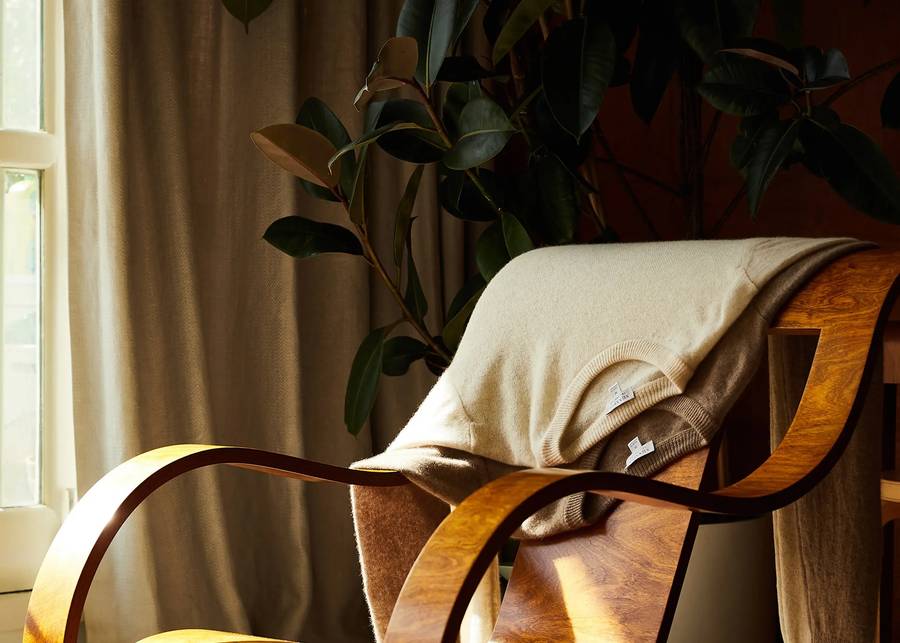 We've been working with the world's highest quality fibres since we were founded and cashmere is one of the finest wools. Its fine micron count gives it an unparalleled softness.Today we source all of ours from a Scottish mill that's almost as old as Sunspel. Founded in 1867, Todd and Duncan produce some of the highest quality cashmere yarns available.
Producing yarns of this quality is a meticulous process that begins with nomadic herders in the hills of Inner Mongolia. They rear the Capra Hircus Laniger goats using traditional nomadic methods and local legislation protects the goats and the herders' nomadic livelihoods while enforcing crop rotation to prevent overgrazing and desertification.
All Todd and Duncan's cashmere is Grade A and they select only the white hairs which are the finest from the goat's underbelly. Not only do these hairs make softer yarns but when they're dyed, there are no impurities. (For several of our cashmere products, we leave the wool completely undyed instead for a natural tone.) At 15.5 micron the resulting yarns are exceptionally soft, strong and durable. Any darker hairs are removed and sold for use in rugs and carpets so none is wasted.
Quality control is very important. In Todd and Duncan's own words, "We check, double check and triple check every batch of raw fibre," guaranteeing each strand is perfect. They then spin it on the banks of Loch Leven in Scotland. They are there for good reason: the natural softness and purity of the loch water helps open up the wool fibres, resulting in consistent colours and a beautifully soft handle. They use environmentally friendly dyes so the water can be easily cleaned and returned to the loch unharmed, helping to protect the brown trout, pink-footed geese and the 35,000 wintering birds that live there. 
The result is yarn of unrivalled quality. Luxuriously soft, natural and durable, the final garments, knitted by our partners nearby in Hawick, are works of craftsmanship that are ethically and responsibly produced. Each will last for many years.